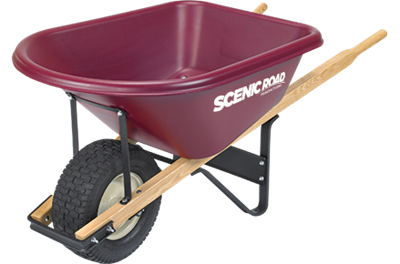 When is a Plastic Wheelbarrow not a Plastic Wheelbarrow?
Don't be fooled. Our "Plastic" Wheelbarrow is anything but cheap plastic -- our tray is the toughest on the market because it's made of super thick High Density PolyEthylene (HDPE) with UV stabilizers --for a significantly more durable tray than the cheap, thin plastic trays commonly found at retail outlets.
Our wheelbarrows are the only wheelbarrows that many professionals and tradesmen will use - from masons, to concrete workers, to landscapers. They are more than enough to handle anything a DIYer or homeowner can throw at them.
All of our "not plastic" wheelbarrows have superior trays, which are vacuum molded -- not injection molded (look for the support ribs on the lip of the tray). Our process produces a more pliable, crack and impact resistant tray, durable enough for the most challenging projects.
Features of our Plastic Wheelbarrow:
Our HDPE Wheelbarrow trays are as durable as steel and won't dent or rust out
Our HDPE trays are significantly lighter weight than popular steel trays models
Our HDPE trays are backed by a industry leading 5 or 10 year warranty
This is not a throwaway wheelbarrow!