Scenic Road Wheelbarrow Parts
Keeping your Scenic Road wheelbarrow in good working order sometimes means replacing worn-out parts. Be sure to only use Scenic Road replacement parts for the best experience possible.
We Carry Parts for all our products
Find what you need at Scenic Road to keep your gear working efficiently.
Replacement Parts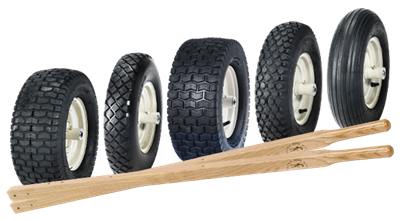 Wheelbarrows get old, but that doesn't necessarily mean you need to buy a new one. We offer a variety of replacement parts for your wheelbarrow.
Handles
Legs
Leg Braces
Vertical Tray Braces
Nose Pieces
Axel Brackets
Axels
Wheels
Wheel Bearings
Bolts
Bolt Retainers
TYPES OF TIRES
Wheelbarrow tires are a crucial part of the wheelbarrow. They are what moves your product or material. Finding the right wheelbarrow tire is key to ensuring your haul is smooth. At Scenic Road, we offer different types of tires for the wheelbarrows we sell.
Flat Tree Turf
Flat Free
Turf
Knobby
Ribbed
We keep a consistent inventory of parts for our wheelbarrows.

To order, call us directly at (717) 488-2077. You can also fax order requests to
(717) 488-2080.

Business hours are from 8:00 AM to 5:00 PM Eastern Time, Monday through Friday.