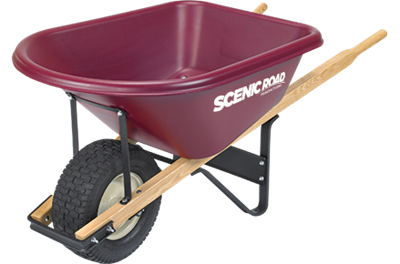 Landscaper Wheelbarrow
Landscapers looking for wheelbarrows that will provide more than a season or two, we have the answer, our scenic Road Series models. There are applications where a 6, 8, or 10 cu. ft. tray are most efficient. Applications where dual wheel models with specific tires will work best. Either way, we have one of the broadest selections available!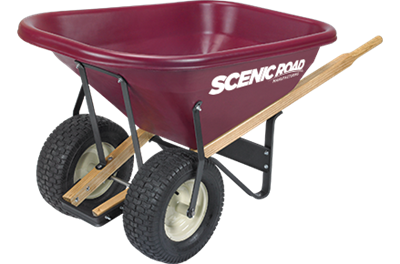 Features and Benefits of our Landscaper Wheelbarrow:
No Cheap Plastic Parts
Our heavy duty Scenic Lane series (400lb. load capacity) offer price point alternatives for lighter applications, mulching bushes and flower beds.
Extra thick high-density polyethylene (HDPE) poly trays performs like steel: won't dent or rust

Our 8 cu. ft. features 32" wide tray fits through doorways, gates, and stalls
Ideal for moving hardscaping rocks. See our "Extreme Use" YouTube video where model M8-2T moves a 780lb rock!
Single or Double Wheel

Tire options:

Basic 16" Ribbed tire
3" x 16" Knobby tread: Enhances traction in wet and muddy locations
6" x 16" Turf tire: Reduces resistance on soft surfaces, like sand and gravel, reduces tread marks in grass, enhances stability
3" x 16" Flat-free Knobby tread
6" x 16" Flat-free Turf tread

Premium tires with tough butyl inner tube (found on motorcycles)
Durable wheel bearings with grease fittings

Extra thick red oak wood lacquered handles

Ergonomic tray design requires 8% less energy and strength to lift and move heavy loads
This is not a throwaway wheelbarrow!