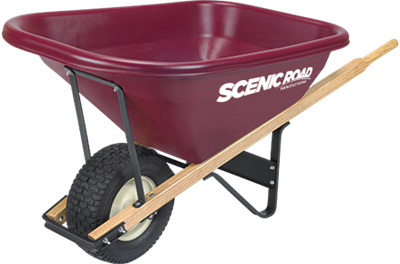 8 Cu. Ft. Wheelbarrow
Popular with tradesmen, farmers and ranchers, and homeowners wanting more tray capacity to work more efficiently. Our 8 cu. ft. wheelbarrow is manufactured with superior components to provide guaranteed dependability for home improvement projects or on the job site.

This single wheel design provides excellent load capacity to get your work done quickly and efficiently.
Features of our 8 Cu. Ft. Wheelbarrows:
No Cheap Plastic Parts

Extra thick high-density polyethylene (HDPE) poly trays performs like steel: won't dent or rust
Single or Double Wheel

32" wide tray fits through doorways, gates, and stalls
Ideal for hurricane, flood cleanup, and other emergencies. Will move large amount of debris through standard size openings
Ergonomic tray design requires 8% less energy and strength to lift and move fully loaded wheelbarrow

Extra thick red oak wood lacquered handles

Premium tires with tough butyl inner tube (found on motorcycles)
Durable wheel bearings with grease fitting
This is not a throwaway wheelbarrow!