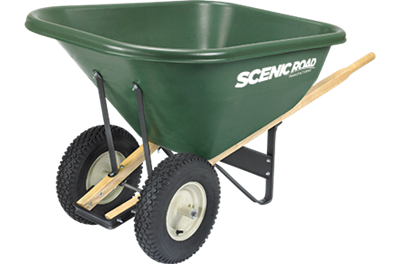 2 Wheeled Wheelbarrow
The most trusted wheelbarrow by landscapers everywhere, our 2 Wheeled or Dual-Wheel Wheelbarrow is the most dependable wheelbarrow for the ultimate stability and load control for homeowners, farmers, and tradesmen. The 2 wheel design gives you more control with less effort to save your energy as you haul even the heaviest loads.
Large capacity, dual wheel models ideal for mulching and transporting trees with root balls and hardscaping rocks.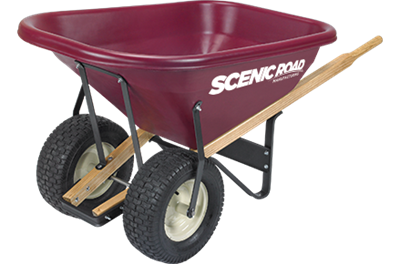 Features of our 2 Wheeled Wheelbarrow:
Evenly distributed weight for undisturbed ground
No Cheap Plastic Parts

Extra thick HDPE poly trays that perform in the coldest and hottest temperatures and never rust
Structural steel components on all models in our Scenic Road Series (stronger than sheet steel)
High-density polyethylene tray with UV stabilizers
Extra thick red oak wood lacquered handles
Premium tires with tough butyl inner tube (found on motorcycles)

Durable wheel bearings with grease fittings

This is not a throwaway wheelbarrow!