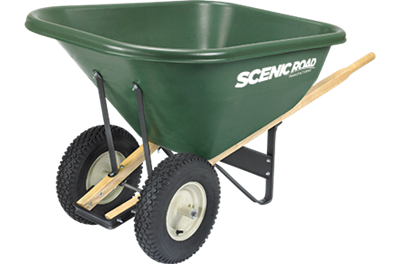 10 Cu. Ft. Wheelbarrow
Popular with tradesmen, farmers, and homeowners. Hauling light bulk materials like hay, mulch, and shrubbery or heavy loads of stone, landscaping rocks or balled trees for planting, this large capacity tray can handle it with ease. You'll also appreciate our unique ergonomic tray that requires 8% less effort to lift.
Features of our 10 Cu. Ft. Wheelbarrow:
No Cheap Plastic Parts
Extra thick high-density polyethylene (HDPE) poly trays performs like steel: won't dent or rust

Single or double wheel
Ergonomic tray design requires 8% less energy and strength to lift and move fully loaded wheelbarrow

Extra thick red oak wood lacquered handles

Premium tires with tough butyl inner tube (found on motorcycles)
Durable wheel bearings with grease fitting
This is not a throwaway wheelbarrow!